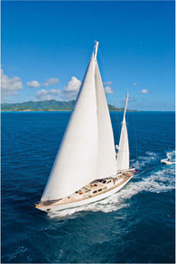 Welcome To FinestYachts.com
Finest Yachts is part of the Nicholson Yachts Network Group. Whatever your dreams when it comes to luxury yachting, Nicholson Yachts and the Nicholson Network will make them real. Since 1949 Nicholson has represented the world's finest luxury yachts both sail and power, catamaran to mono hulls. Our charter yachts are around the world from the Caribbean to the Mediterranean, New England to Alaska, and from the Indian Ocean to the South Pacific.
Picture yourself onboard a luxury yacht. Cruising through the world's most beautiful waters. Pampered in your own private world. Visiting serene, breathtaking beaches and ports. As a yacht charter guest you customize every aspect of your yachting experience. Nicholson's charter specialists fully assist and guide you through your entire charter experience.
"And remember "It's your dream, your vacation and your way".